Here's a little story about the time I'm sure I committed a fashion faux pas and wore thirfted clothes to New York Fashion Week.
For years I have dreamed of going to New York Fashion Week and often fantasized about what I would wear when the opportunity presented itself. Well, the opportunity finally came around and I basically flipped my lid.
Because I've worked for brands like Michael Kors, DKNY and Saks Fifth Avenue, my first thought was not WHAT I was going to wear, but WHO I was going to wear. I mentally prepared myself to spend an unimaginable amount of money for my short-lived New York Fashion Week experience.
But, suddenly and thankfully, reality set in and I remembered that I'm 27, working for a non-profit and making a very modest income that doesn't afford me much beyond paying my bills. I was reminded that although I would consider myself "fashionable", I am not among fashion's elite and my money is NOT long. All I knew was that I could NOT wear anything from my closet.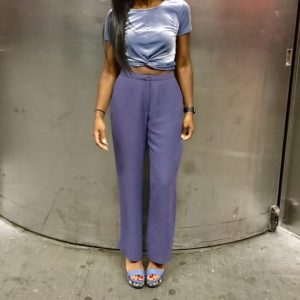 After a few days, I came back down to earth and I remembered that my very modest income came from my job as a thrift store manager. News flash! My light switched on!
I could literally make an outfit out of anything. Every week I see thousands of items come through our door in the form of donations. I see things likes Ralph Lauren, Coach, Michael Kors… all types of things.
So, I came up with an awesome idea. I would create as many Fashion Week looks as possible and spend as little money as possible by only shopping at thrift stores.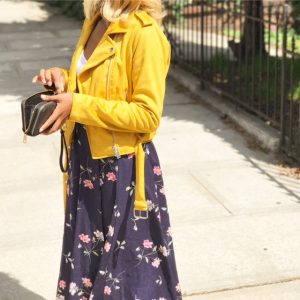 Ready for the tips? Keep reading…
1. Shop with a purpose (meaning have an idea of what you're looking for).
Now don't get me wrong. It wasn't an easy task. To make things easier I gave myself these rules and guidelines to follow.
No item can cost more than $10.
Items must be purchased from various stores.
All items must be able to be worn multiple times and able to be mixed and matched with multiple things.
Stray away from neutral colors.
Every outfit must be able to be worn with shoes that I already own. (Because I have so many)
Every outfit must pair with accessories that I already own.
2. Set a Budget. (Remember You're Going to New York Fashion Week)
As stated above, I gave myself the restriction of only buying items that were $10 or less. However, it's also helpful to set a total amount that you want to spend. Also, you get more bang for your buck when you decide how much you want to spend per item. Most importantly, remember that you're going to New York Fashion Week. You need to save as much money as possible!
3. Be aware of Your Current Wardrobe
My philosophy when shopping (whether in a mall or a thrift shop) is if I can't pair it with multiple things in my closet then I don't really need it. Develop a similar mentality. Pick a number and if you can't pair the item with that number of items in your closet currently then don't buy it. After you've done this decide if the items you've picked are "New York Fashion Week worthy."
4. Salvation Army Before Other Shops
My first trip was to my local Salvation Army and it was actually my most successful shopping trip of the day. I spent just under $20 and I was super excited! Check #4 to see how I did it! Additionally, I've noticed over the years that many people resort to Salvation Army and Goodwill because they just aren't aware of any other places they can donate clothes to. So, you would be surprised at some of the amazing things you'll find at Salvation Army and I guarantee it'll be super cheap!
5. Sign up for Mailing Lists and Rewards Programs for Additional Discounts
So, I actually lucked up (and made a great decision) by waiting until Labor Day to go thrift shopping for New York Fashion Week. Everything was 50% off for Labor Day! #Winning! But, I also took the time to sign up for each stores mailing list. By signing up for Salvation Army's email list I received an instant 10% off coupon that I could combine with the 50% off discount. #WinningAgain!
6. Do not focus on size!
The best advice that I can give you is to not focus on size. Styles and sizes have changed dramatically over the years, so what you think might be too big may actually fit you perfectly.For instance, I'm typically a size 0-2, but I have bought things that were a size 8 and oddly they fit perfectly.
7. Try Everything on.
After you've gone through EVERY SINGLE rack, try everything on. Put together as many outfits as you possibly can without breaking your budget. Imagine the shoes and accessories that you'll pair with each item/outfit as you're trying things on. And remember, if you can't pair it with other things in your closet (most importantly your shoes and accessories) then don't buy it. Don't waste your money on things you probably won't wear again, even if it's not very much money.
8. Thrift First, Mall Later.
Last, but not least, do not resort to the mall until you have shopped as many thrift stores as possible. I did not visit the mall until I realized that I was having difficulty finding shirts that fit. So, I went to the mall, but with very similar guidelines. Be cheap. Shop clearance racks and try your hardest to spend $10 or less per item. Thanks to Forever 21 I succeeded.
Well everyone, that's the end of my pre-New York Fashion Week story. I hope that these trips are valuable to you whether you're attending Fashion Week or simply trying to make the most of your next thrift shopping experience. If you have any additional thrift shopping tips or have been to Fashion week, share your experience and what you wore in the comments!