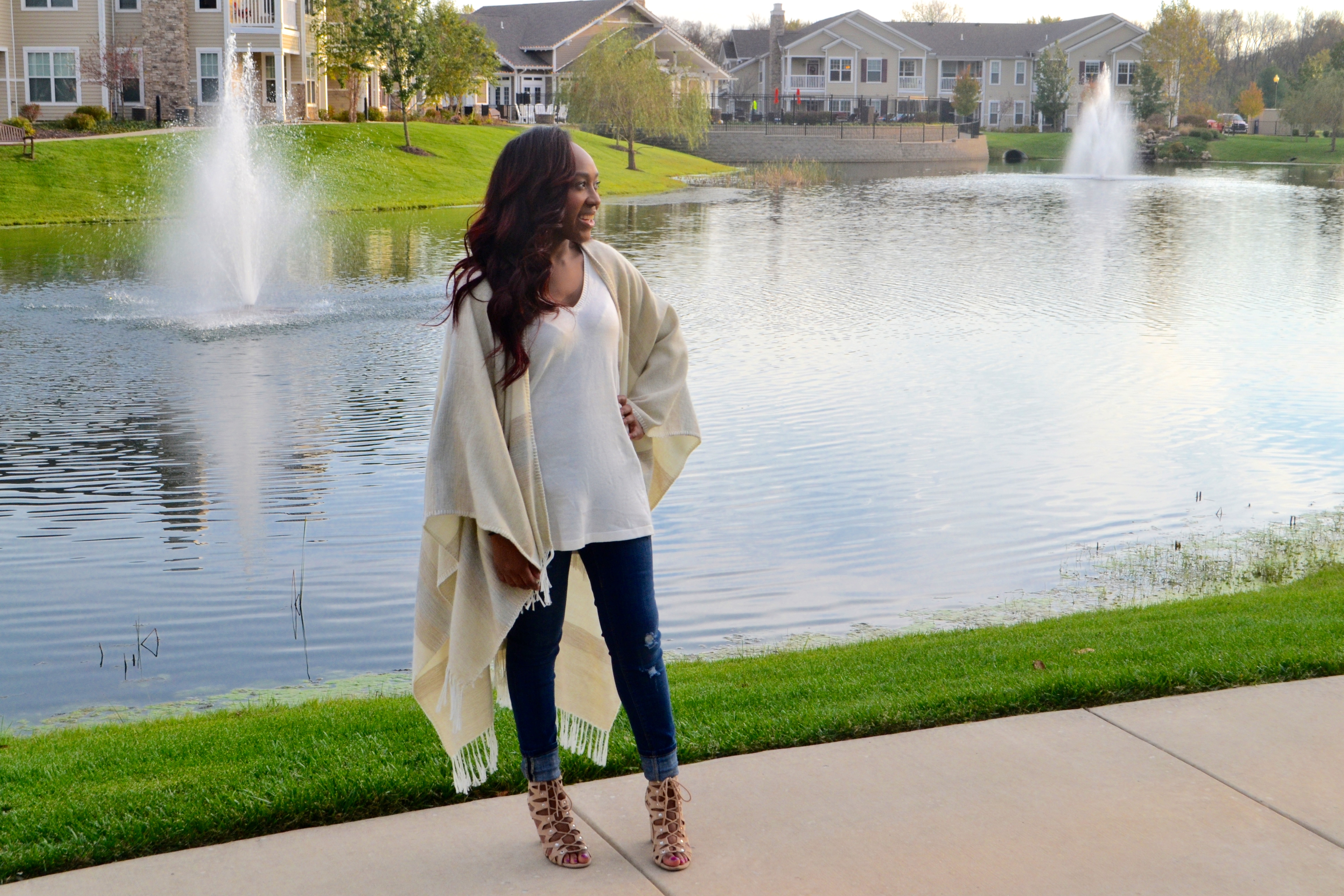 Capes and ponchos are two things that are typically a "miss" for me. I just don't feel that they are very flattering because I'm so short and most of them are too long.
So, here's the story behind this cape. I purchased it last year around this time from the Limited at St. Clair Square. (Ironically they have it again this year. They recently converted to an outlet which carries a few of last season's pieces.)
Moving on, I bought this cape last year to wear with a pair of winter-white pants that I also purchased from the Limited. I literally wore the thing to work for my eight-hour shift and it never saw the light of day again.
I've tried hard to love ponchos as well, but they just didn't seem to work for me. I've tried longer ponchos and even shorter ones that seemed more appropriate for my height and figure. Yet, and still, I never found a poncho that was to my liking.
So, while capes and ponchos aren't necessarily my favorite things, I do love to see them on other women! So, here are MY basic rules for wearing capes and ponchos.
The easiest way to wear a cape or poncho is to choose a solid, neutral color.
Wear them over an all-black outfit. #InstantlyChic
I think striped shirts look amaze-balls underneath ponchos and capes.
If it seems like too much fabric for you, don't be afraid to belt it at the waist. #InstantlyChic
If you are going to choose a cape or poncho with a design, once again it's EASIEST to choose one that has neutral colors.
Colorful ponchos and capes look best with an effortlessly chic, basic outfit… Like jeans and a t-shirt, basic.
Go completely boho-chic with a floppy hat and flared jeans. #YASSSS
Ponchos look great layered over a collared button-down.
A little fringe never hurts!
If you're short like me then it's probably best to wear heels when wearing a cape (such as this one) because they can appear to be so long.
Capes look pretty amazing worn over a turtleneck. And ponchos look best, in my opinion, when they are turtlenecks themselves.
The truth of the matter is that ponchos and capes can easily be unflattering. However, with a little patience and when worn the right way, they can be amazing. So, add capes and ponchos to your list a trends to try this season!
Click the links below to see other ponchos and capes that I'm loving this season and enjoy more photos below.
The Limited (short poncho) – (striped poncho) // Forever 21 (wool blend poncho) (tasseled poncho) (striped poncho)
**The cape Im wearing here can be found at any Backroom at The Limited or The Limited Outlet store.**