Have you ever had one of those days where you wake up with absolutely no motivation and no time to put effort into creating an outfit? That was me this morning. Actually, that's been me every morning for like the last five months or so. I have no desire to do my hair and absolutely no desire to put together an outfit. However, somehow I tend to unintentionally create a "look" from time to time and it usually starts with a simple all black outfit.
Well, today I'm going to share how to create a "look" out of basically nothing." This look consists of two things that I'm sure we all have; a t-shirt and jeans! Check out how I turned an all black outfit into something spectacular.
Here are 7 tips to turn your basic look into a "Look." *inserts emoji wearing sunglasses* #IssaLook
1. Your blacks don't have to match and neither do your fabrics.
Listen to me and listen good. All black anything is an instant outfit. I don't care what anyone else says. It is what it is. I said what I said. And no one (but probably my mother) cares that you're wearing two different shades of black. The moment you put on a black top and a black bottom of any sort, you have completed about 75% of your outfit. For the look I'm rocking here, I started with black jeans with fringe at the ankle and a plain black t-shirt. A simple detail like my ankle fringe gave this outfit instant character. Other ways to add flare include rocking leather (pleather), distressed detail, flared or wide leg trousers; anything besides plain black pants adds instant flare. And if you're going to rock plain black pants then add some flare with your top; lace, fur, bowtie, dramatic sleeves. There are so many ways to make an all black outfit stand out. Think different textures and different fabrics!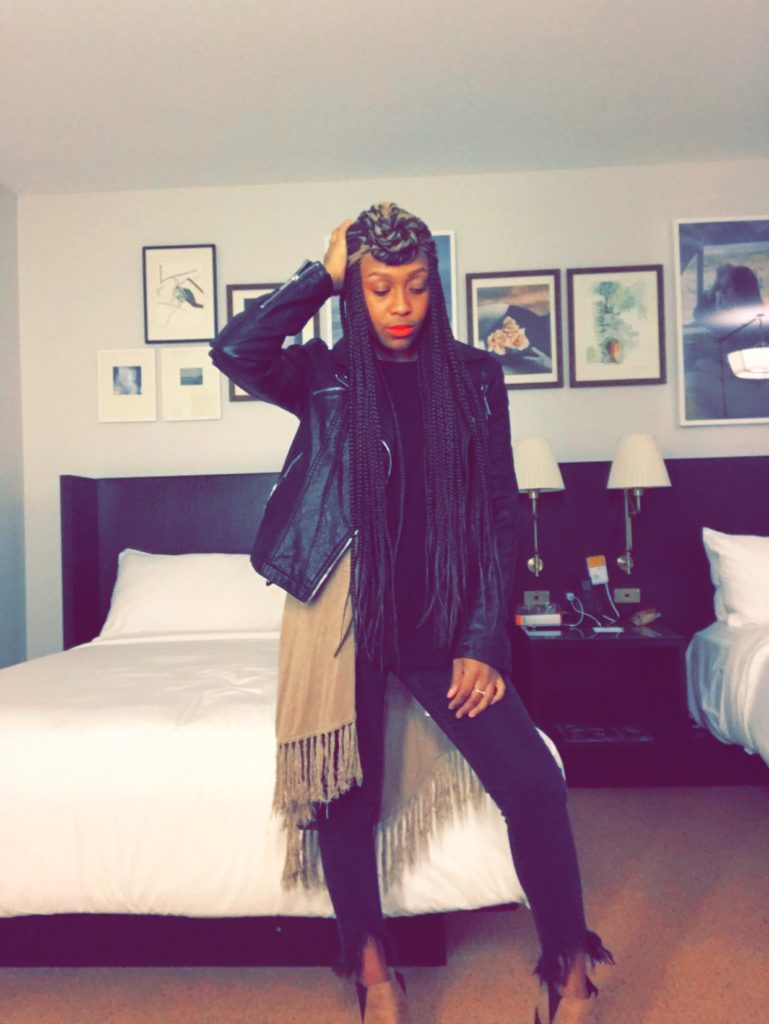 2. Add another layer (maybe of a different color).
So, to take my all black outfit to the next level I added a sleeveless, long, fringed vest in another neutral color. You could also choose something of a brighter, more vibrant color. You could add a more structured vest, or even a denim vest would look cool! I also love to create different lines and dimensions for my outfits. I'm super short, so I like to wear things that give the illusion that I'm taller. So, by rocking something a little longer it creates an appearance of me being a little taller.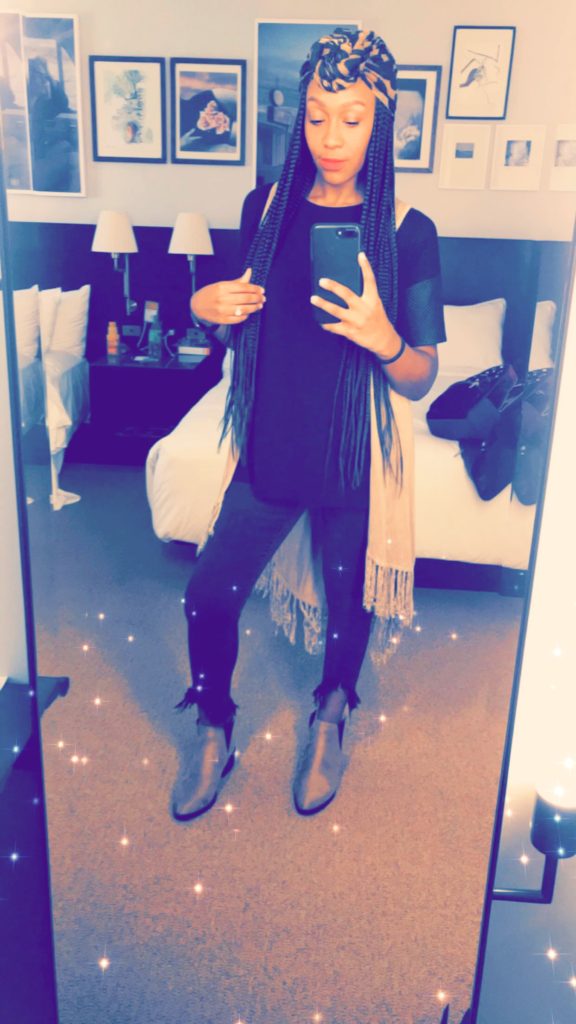 3. Throw on a jacket (try the over-the-shoulder trend).
So, I'm sure you've seen all the bloggers, celebrities and other cool people rocking their jackets over the shoulder rather than actually wearing them how they are intended to be worn. Guilty. I am one of those people as well… at least right now I am. The next step to take an all black outfit to the next level is to add a jacket. Color and style of the jacket are dependent on color of the layer you added in step 2, however.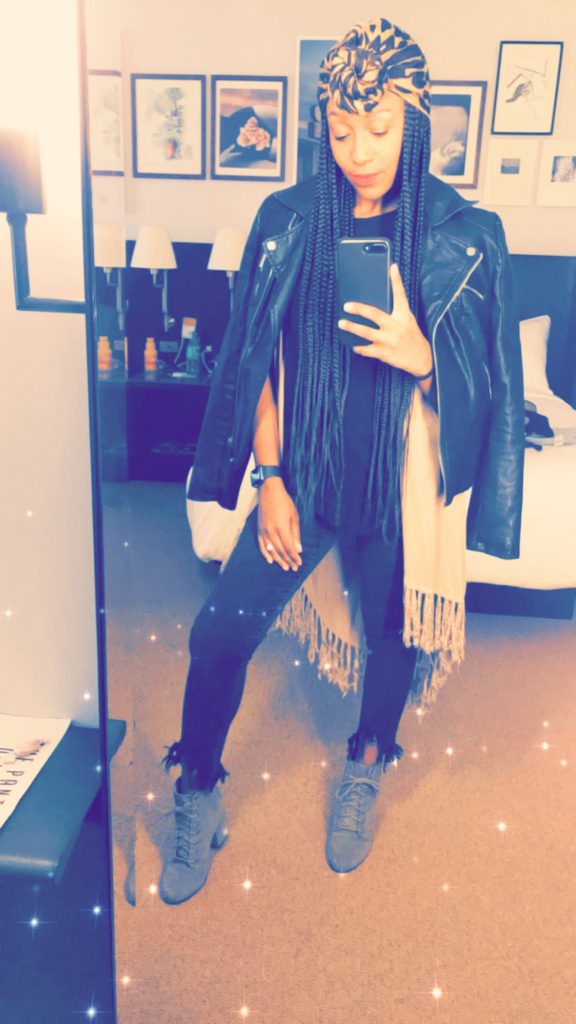 4. Accessorize.
Now, I must admit, I am not a huge fan of jewelry. I own a lot of it, but I rarely wear any. Instead, I opt for my Apple watch and the same stud earrings on a daily basis. For you all, however, add jewelry if that's your thing. Jewelry can't hurt an all black outfit and will surely take your outfit to the next level. But, don't go overboard. Another accessory that you can add is a scarf. Now, traditionally, most people would opt to wear the scarf around their neck which is totally fine. However, for this look I put my favorite leopard print scarf on my head instead. And, honey when I tell you I took on a new personality, I mean it. I instantly felt kinda regal. LOL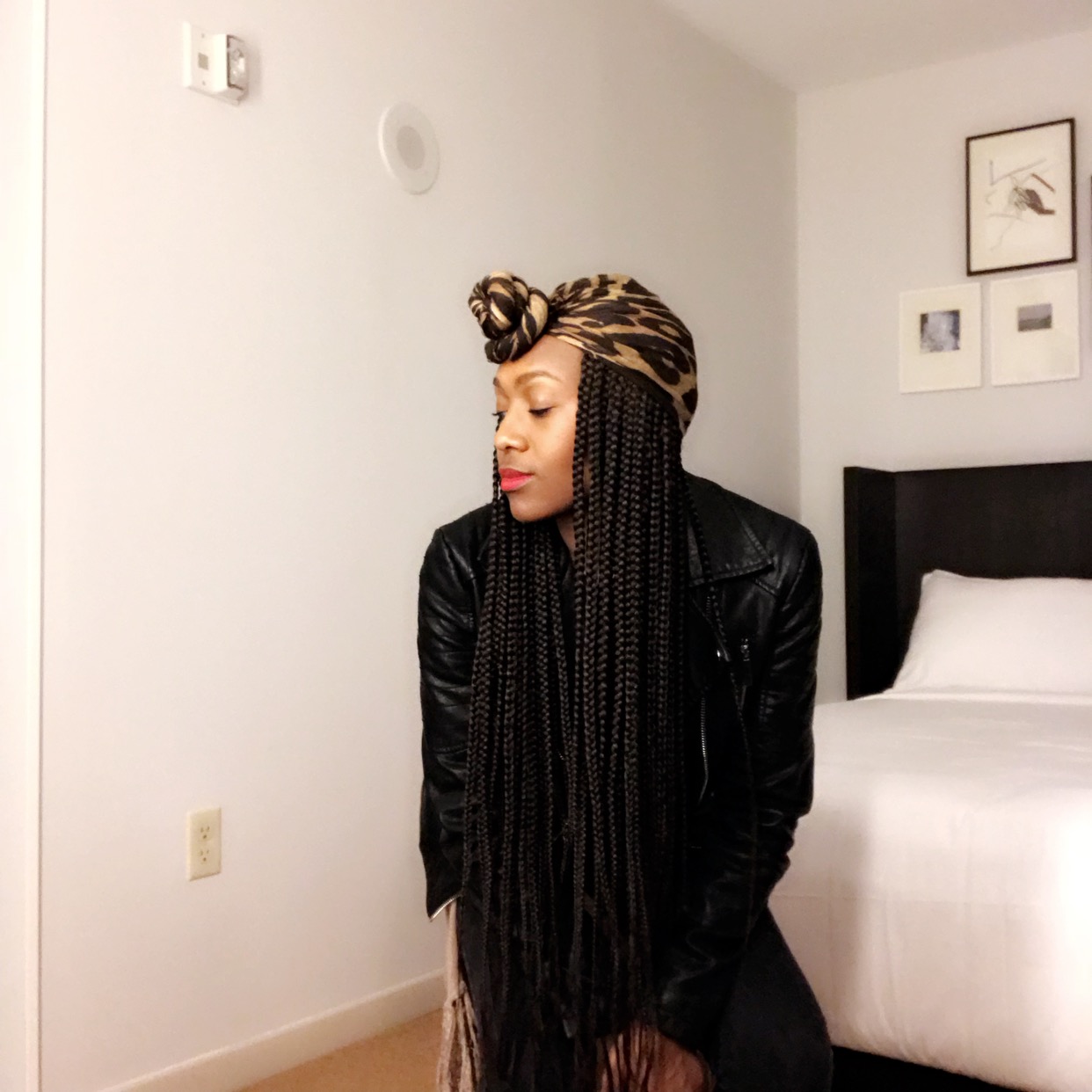 5. Boots or booties will complete the "look."
There was once a time in my life when I wore boots all year round. I'm not lying. So, believe me when I say boots can and will complete any look. Whether you're rocking pants, leggings, a skirt, a dress, shorts, etc. boots will always do the trick. They will most definitely add a bit of character to something basic. There are tons of boot styles to choose from. I personally prefer over-the-knee and thigh high boots (they make my legs look longer!). Oh, and I love Chelsea boots! However, if you think I'm country for believing that a boot or bootie will always work, please refer to #6.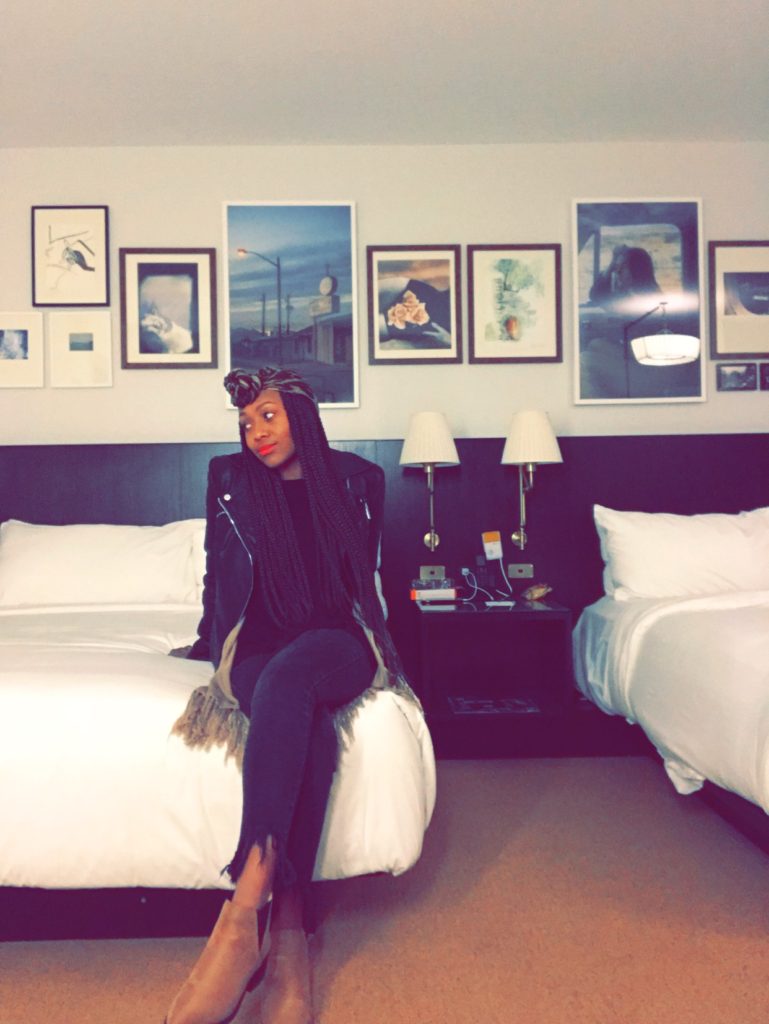 6. Heels are your friend.
Let's face it. Heels can hurt, especially if you're walking in them too long. But, beauty is pain, right? So, throw the heels on a suck it up. It's all about the look. You can soak away the pain when you get home.
7. Don't forget your lipstick.
Last, but certainly not least, a definite way to spruce up your all black outfit is to make sure your face is on point… And by face, I do not mean your natural one. No shade, but if you aren't feeling like yourself, then your face probably will reflect that. You may not smile as much or draw positive attention if your attitude isn't on point and neither is your outfit. So, do your makeup in order to take your all black outfit to the next level. And if you don't want to do your entire face at least put on lipstick! DO NOT forget your lipstick. (Red, preferably!)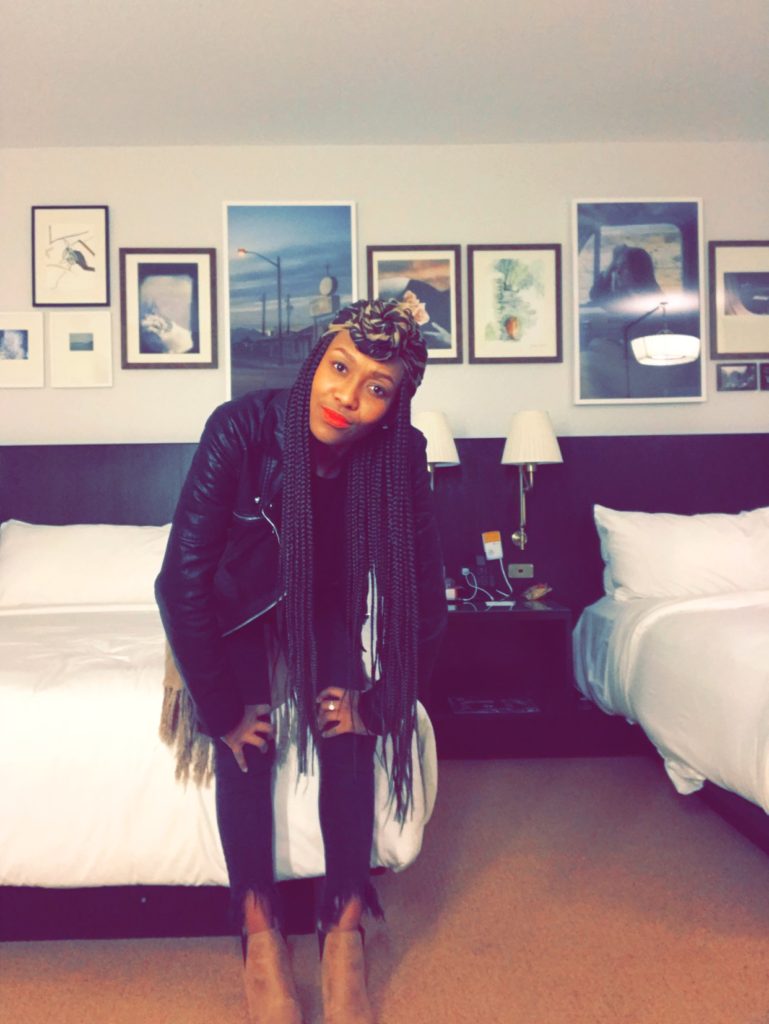 Well ladies, I hope you've enjoyed this post as much as I've enjoyed writing it. Wasn't that easy? Now, do me a favor and look at my face in that last photo… Ok, now go put that outfit together sis! You got this!
Until next time…
xoxo