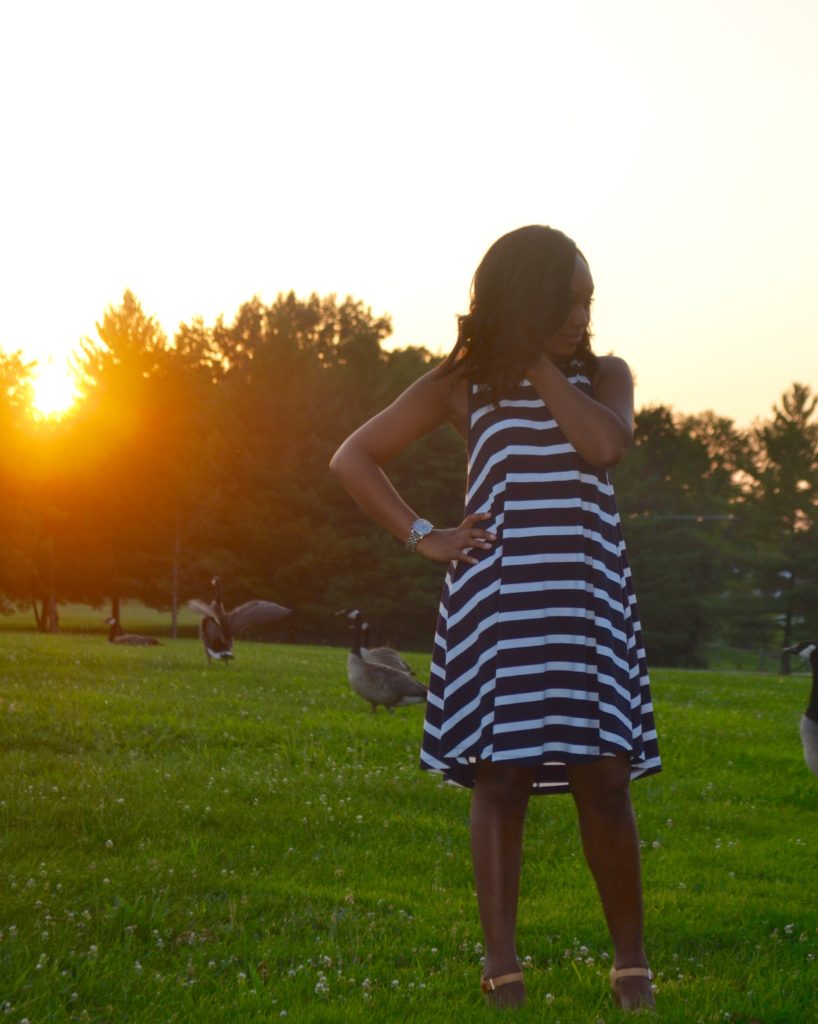 For a long time I would claim that I had nothing to wear when in fact I was standing in front of a closet full of hundreds of options. In fact, to this day, I still have moments of experiencing this. Actually, I'm probably going to feel that way when I walk into my closet in about 30 minutes. I always struggle during the summer season because I don't really own summer clothes… Probably because I hate summer.
Anyhow, there is one thing that I always reach for when I can't find anything to wear… A dress. I advise every women to just go out and buy a few basic dresses and let your dress collection grow naturally over time.
Dresses are such an easy option. The one I'm wearing here is from The Limited. (Click here to purchase this dress.) I love dresses because they are probably one of the most versatile things any woman could have in her closet. For instance, for these photos I paired this casual swing dress with a wedge shoe to dress it up a bit. However, later in the evening I paired it with white Converse sneakers and a denim jacket for a cool laid-back look. I've also seen this dress paired with a sleeveless, white button-up underneath it which was actually super cute.
Not only are dresses like this versatile, but so are most other dresses. Your summer dresses can easily transition into fall and winter by adding tights and maybe even boots. In the past I was actually known for pairing my dresses with boots at any time of the year. Boots are made for walking, right!? Even your work dresses can be versatile. Not only could you maybe pair a collared shirt underneath, you could also add a jacket, add tights, or switch up your shoes. Honestly, I believe it's really easy to transition dresses from day to night.
In my opinion dresses are the best option for women who never have anything to wear because you literally just throw them over your head, pick a shoe and go. I highly recommend purchasing a few styles of dresses in a few neutral colors and then play around with different color shoes and accessories. Truthfully, this is the easiest and quickest way to get out of your closet in a timely fashion and still look very put together! Now go out and there and pick out some dresses….
P.S. Dresses with pockets are amazing!