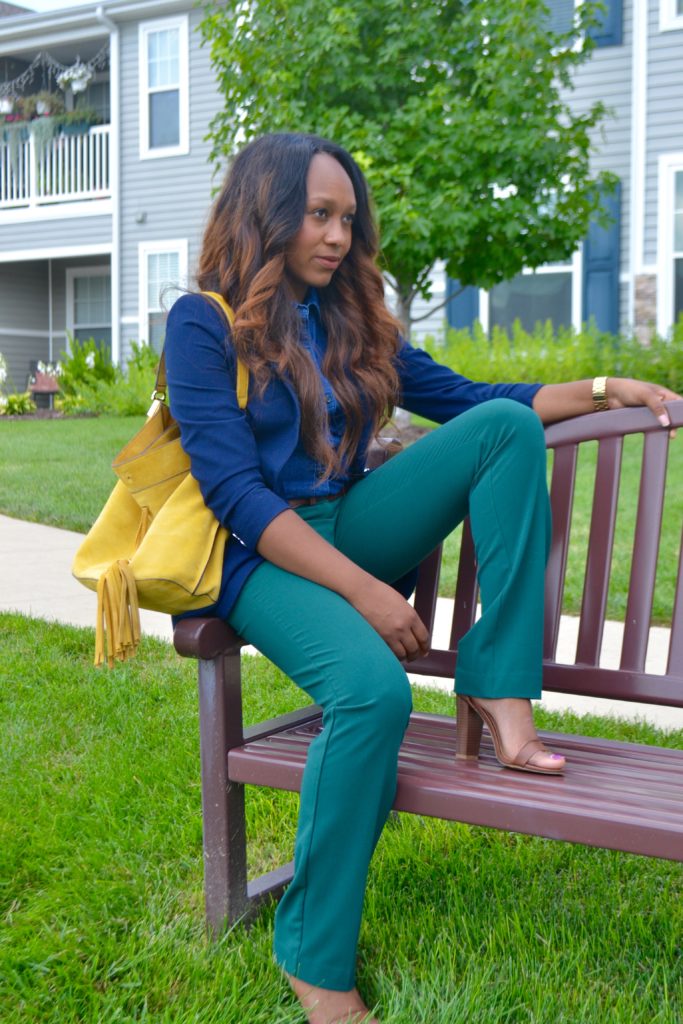 Ok, can I just say that I feel like I need a modeling contract after this photoshoot!? (LOL) Ok, no seriously, I love these photos!
So, this post, as well as a few others, will focus on adding denim to your 9-to-5 wardrobe. Typically denim is seen as a casual wardrobe statement, not something that would normally be acceptable in the workplace. However, there are very subtle, yet cool ways to wear denim on the job without breaking the dress policy.
I casually snuck denim into this workplace outfit by wearing it underneath a normal navy blazer and pairing it with fun green trousers for a pop of color. This top works because it has two details that are very socially accepted in the workplace. It has a collar and it's also a button-up shirt. If your work dress-code does not say that denim is not allowed, then you haven't broken any rules.
The great thing about denim shirts is that I can't think of any bottom it wouldn't look great with. This is definitely a wardrobe staple. This particular blouse is sleeveless, but I also own this shirt with sleeves (also a wardrobe staple).
This is a look that anyone could recreate and make their own. You could literally select pants of any color from your closet and a neutral-colored blazer and you're set for a stylish day at work.
Don't be afraid to make a statement either! Denim shirts look awesome with bold colors and wild prints as well. Literally, the craziest of prints could never look wrong with a crisp denim shirt.
There are a variety of places that you could purchase one. I've found these shirts at many retailers ranging from Target, to Forever 21, to Dillard's. You can literally find them everywhere because they're so on trend.
I personally prefer darker washes and find that they look better with a greater variety of bottoms. However, I do own denim shirts in a variety of washes. So, start out with a wash that you really like and move on form there!